This course runs in 2020/21.
Physiotherapists make a real difference to the quality of life, developing and restoring functional movement and enhancing health. This course gives you the opportunity to develop a range of practical and academic skills to allow you to enter the profession successfully.
WHY CHOOSE THIS COURSE?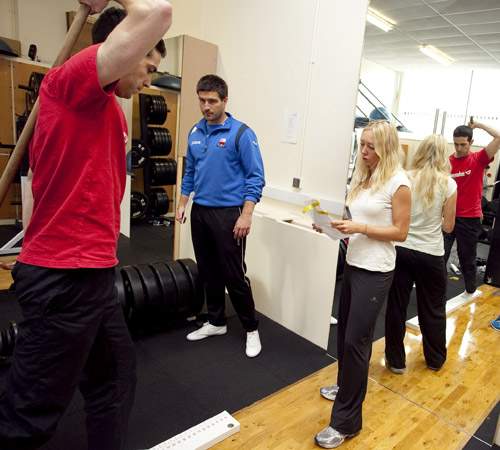 This course seeks to develop both academic and professional abilities, with an emphasis on the individual development of theoretical, practical, analytical, interpersonal and research skills.
If you choose this course you may benefit from:
a course that is accredited by the Chartered Society of Physiotherapy (CSP) and eligibility to apply to join the CSP;
eligibility to apply for registration with the Health & Care Professions Council (HCPC), which conveys a licence that allows you to use the title of the physiotherapist and to practise physiotherapy;
clinical placements available with the National Health Service (NHS) and non-NHS employers across the West Midlands, South Central and East Midlands regions;
guest lectures by experts in their fields and employers in large NHS trusts, private practice, industry and sport;
enthusiastic teaching, progressive research and interactive web resources to support your learning; research-active teaching staff who are rated in the National Student Survey (NSS) 2014 as Excellent and Enthusiastic and who bring their research into their teaching.
Approved

Accreditation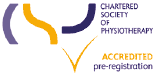 Accreditations shall be renewed in accordance with the accreditors' standard review process and subject to the University maintaining the same high standards of course delivery.
WHAT WILL I LEARN?
This course gives you a comprehensive foundation for physiotherapy in the first year, covering subjects such as: anatomy, physiology, pathology, physiotherapy assessment and rehabilitation. Interdisciplinary modules cover foundations in communication and professionalism and the social determinants of health.
In years two and three you go out on clinical placements, in-between periods in University when you explore the necessary skills and knowledge. Preclinical preparation follows the core themes: cardiorespiratory, neurological, and neuromusculoskeletal physiotherapy. You will then undertake placements for the three core themes.
Later you will have the opportunity to expand your experience further by considering physiotherapy in a broader context, again based upon the core themes, and to engage in understanding health service provision in the modern NHS.
In addition you will examine the nature of evidence for practice, and conduct an individual investigation or research project. There is a final placement preparing you for autonomous practice.
HOW WILL THIS COURSE BE TAUGHT?
Our modules are based on a series of one-hour lectures, each with associated laboratory practical classes and seminars. You will be in a group with around 20 other students, who you will then stay with for the whole three years of the course.
An important part of your course will be the clinical placements in the second and third years. You will also have an academic personal tutor assigned to you who will be available for academic and pastoral support throughout the course.
HOW WILL I BE ASSESSED?
An estimated percentage breakdown of how your final grade is assessed is as follows:
coursework, tests, essays 35%;
coursework, tests, essays 35%;
other e.g. placements etc. 35%;
practical or project work 20%;
formal examinations 5%;
presentations, posters etc. 5%
The Add+vantage Programme is not applicable to this course.
TEACHING CONTACT HOURS
In a typical teaching week you will have up to 21 contact hours of study (classroom, online etc.) and this will break down as:
Personal tutorial/small group teaching: meetings are arranged on a mutual basis as necessary.
Medium-group teaching: 15 hours of practical workshops or seminars each week.
Large-group teaching: 6 hours of lectures each week.
Personal study: 10-15 hours each week studying and revising in your own time.
ENTRY REQUIREMENTS
Essential entry requirements
7 GCSEs from a single sitting at grade A*–C including English Language, Mathematics and Science at grade B. Evidence of recent study is desirable.
Typical offfers
A-Levels: AAB to include a Biological Science subject. Physical Education will be considered. Excludes General Studies.
BTEC Level 3 Extended Diploma: D*D*D* in Biological Science or a health related course plus additional AS Biology (minimum grade B). Sports and exercise science will be considered, sports development and performance is not accepted.
International Baccalaureate: 34 points, including 3 subjects at Higher Level grade 6 to include a biological science.
English as a Foreign Language: an IELTS of 7.0 overall, with no component lower than 6.5. Pre-sessional English is available if required.
Additional Information: applicants are expected to show academic attainment at the required level within 3 years of the course proposed start date, and will also be required to attend an interview. All offers are subject to satisfactory health clearance, disclosure and barring service/criminal conviction checks and a successful interview.
In line with the National Health Service Constitution we use a values based recruitment approach in seeking candidates with the appropriate values to support effective team working in delivering excellent patient care.
FEES AND FUNDING
Funding for health professional courses is changing – to keep up to date with developments please visit the Funding Clinic website.
HOW WILL THIS COURSE ENHANCE MY CAREER PROSPECTS?
The expanding role of the physiotherapist, in the NHS and outside the NHS in a variety of settings, offers many career pathways. 95% of Coventry University graduates are employed or are in further study (DLHE Survey 2013/2014) meaning that our degrees are focused with employability in mind.
Placements help ensure you have the knowledge and practical expertise required by potential employers. In addition, through the course students are strongly encouraged to develop portfolios to demonstrate evidence of their capabilities in communication, cooperation, and collaboration, with assistance from their academic tutors.
Coventry University is committed to preparing you for your future career and giving you a competitive edge in the graduate job market. The University's Careers and Employability team provide a wide range of support services to help you plan and prepare for your career.
The Faculty of Health and Life Sciences' own Employability and Placements Unit can help you to find suitable work placements and give you advice on how to get the most out of them.
https://www.coventry.ac.uk/course-structure/ug/2020-21/hls-nhs/physiotherapy-bsc-hons/